Some potted career biography
I grew up in Essex and graduated from Portsmouth in 1984 with a BA (1st Hons).
Then, living in London Brixton, I completed a course at St Martins with portfolio oriented toward childrens publishers. I went on to illustrate comics and editorial features for consumer and trade magazines. Among them were IPC's Look-In! (TV mag for kids) for whom I did a weekly comic called Justin Gibbs and his Massive Fibs!
For SELECT (music monthly) I did Moody DJ and for The Right Angle (architecture monthly) I did Archy and Tex - both comic features. This was a very productive time when I also illustrated short-fiction for adult monthlies and editorial spots for lads-mags but just as I'd honed a confident yet flexible drawing style, the publishing industry itself in the 80s went through massive changes. This prompted my decision to try my luck in Sydney where I landed editorial commissions for the Sydney Morning Herald and fiction features for Penthouse's Ozy division. However, due to a serendipitous meeting, I went on to Bali to barter my creative skills as a Designer-of-all-sorts amongst the expat community. I returned eventually to settle in Brighton armed now with a computer and been producing digital graphics for my bread'n'butter ever since.
I am a habitual sketcher anyway and enjoy exhibiting my Poster Art - see 'Jim's Prints' section.
Me about 10 years ago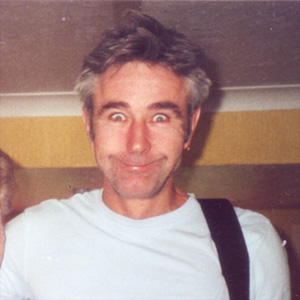 Return to 'Commissioning me'